History of the Ruhr Foundation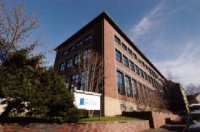 Established in 1998, the History of the Ruhr Foundation (until 2015 Library of the Ruhr Foundation) promotes research on the history of the Ruhr area, on social history in general, and social movements in particular. The library offers various services. The foundation owns a building in Bochum city centre, close to the city theatre, at Clemensstraße 17-19. The stocks of the library as well as the holdings of the archive can be used in a large reading room. In cooperation with the Ruhr-University, researchers, students, as well as the general public may profit from these services. The library and the archive are particularly important for experts on mining history, local and regional historians and social scientists dealing with specialised research fields.

The foundation was proved by the district government in Arnsberg after two years of planning. Thereby, public and private founders came together to establish this institution to document and preserve the past and present of the Ruhr area. Thus, the foundation particularly aims at protecting and developing the cultural and historical heritage of the heavy industrial region.

The library and the archive offer their services to academics, students and the interested public, for free. The board of the foundation, represented by Walther Müller-Jentsch, Klaus Tenfelde and Eberhard Schmitt, also publishes a book series on behalf of the foundation.