Library of the Ruhr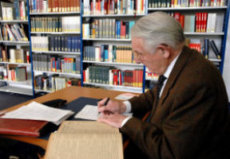 Online-catalogue staff of the library The "Bibliothek des Ruhrgebiets" (Library of the Ruhr) is an institution belonging to both the "Stiftung Bibliothek des Ruhrgebiets" (Foundation Library of the Ruhr) and the "Institut für soziale Bewegungen" (Institute for Social Movements). The BdR was established by bringing under one roof several remarkable, highly specialised libraries. These included the (approx. 240,000 volumes), the (approx. 140,000 volumes) and the (approx. 35,000 volumes).

As a public and scientific library the BdR is continuing to increase the collection of the former institutions. Its catalogue includes items concerning both the past and present of the Ruhr region, the economic and social history characterised by heavy industry, the history and sociology of social movements, the social history of the nineteenth and twentieth century and technological, economic, social and legal aspects of the mining industry.

The (Documentation Centre of Research for the Ruhr) offers quick access to literature concerning the Ruhr region to the general public. It documents newly published works of relevant literature. Anthologies, monographs and scientific magazines are analysed and catalogued. The documents are to be found in the of the library.