Institute for Social Movements / History of the Ruhr Foundation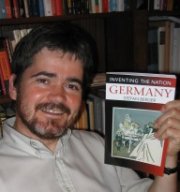 Prof. Dr. Stefan Berger
Director of the Institute for Social Movements
Chairman of the committee of the History of the Ruhr Foundation

Clemensstr. 17-19
44789 Bochum
Room 210

| | |
| --- | --- |
| Telefon: | +49 (0)234 32 - 24687 |
Personal
C.V.
Professional Activities
Grants/ "Fellowships"
Research Fields
History of social movements
History of the labor movement
History of deindustrialization
Industrial culture
History of memory
History of historiography
Theory of history
History of the German-British relations
Publications
Teaching
Links
Miscellaneous
The lecture was delivered in July 10, 2020 as a part of the summer course "Industrial Heritage as a Source of Social Empowerment and Economic Revitalization" organized by Central European University
Abstract: The paper discusses the development of a landscape of industrial heritage in the Ruhr and considers the position of key players towards industrial heritage initiatives from the 1960s to the present day. Key players were civil society, social movements, politicians, administrators, employers/ industrialists, trade unions, preservationists, artists, intellectuals, and academics. The lecture traces the development of a remarkably unitary "mindscape" (Dai Smith) around a concept of industrial heritage as a key building block of regional identity and a marker for the successful transformation of Germany's foremost heavy industrial region into a future where heavy industry plays no, or a much diminished role. The lecture concludes by asking whether this unitary mindscape offers not only opportunities but also silences dissonant memories of the past.
Stefan Berger at the University of Technology Sydney - Radio show on industrial culture in Sydney and the Ruhr area in comparison

(Photograph courtesy of Jason L'Ecuyer of GLAMcity)
Cathedrals of Industry