Research Group:
Transnational Alliances between Trade Unions and Social Movements in Europe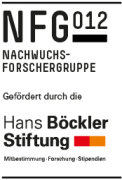 The Research Group explores processes of coalition – building, – coordination, and – action of cross-border alliances between trade unions and social movements in Europe. Up until now, the debate on the conditions and the reasons behind transnational as well as trans-organisational alliances has been controversial. On the one hand, cross-border coalitions are seen as a core element of the counter-hegemonic movement and of union revitalisation, as well as an important solution against the neoliberal excess and the economic crisis in Europe. On the other hand, some scholars emphasise the often conflictual and competitive relationship between trade unions and social movements, which eventually leads to failure. This project will contribute to a better understanding and conceptualisation of transnational and trans-organisational cooperation. The theoretical aim of the research group it to (re-)integrate social movement and industrial relation theories.

Specifically, the Research Group will consider the following set of questions:


Which pattern of social movement and trade union cooperation can we observe in different issue areas in Europe?

What factors facilitate or hinder cooperation? - What role do differences in nationality, ideology/identity, and political/economic contexts play?

How do different expectations regarding cooperation and conflicting interpretations of social problems and solutions shape the alliance? What consequences of the cooperation can we observe both internally (within the organisations themselves), and externally?

Why does cooperation fail or come to an end?

A schematic overview of the analytical framework used can be found
here.
The Research Group is comprised of three PhD projects, each focusing on a different cooperation context.

Johanna Lauber deals with the European Social Forums as places of alliance building, whose occurrence (and failure) has been crucial for the development of further cooperation. Ana-Maria Nikolas focuses on the transnational cooperation between trade unions and social movements in the context of the anti-austerity protests in Europe. Guilia Gortanutti examines the fragmented network behind the mobilisation against the Transatlantic Trade and Investment Partnership (TTIP).

These extensive case studies are strengthened by a joint project: the analysis of attitudes towards cooperation at the organisational level of individual trade unions and social movement organisations. Social Network Analysis will be used for this purpose, supplemented with an online survey of key players.
The Research Group plans to hold several workshops and conferences. Please check this page periodically for up-to-date information. We are also looking forward to possible collaboration with researchers in Germany and abroad.


Events:
International Conference on Cross-movement Mobilization, Bochum 2017-04-05 - 2017-04-07
Call for Contributions
Workshop "New Approaches of Social Network Research" Berlin, 2016-03-31 - 2016-04-01
The aim of this workshop on "New Approaches of Social Network Research" is to invite PhD students employing Social Network Analysis (SNA) methods and tools to discuss their doctoral projects in an open and helpful environment. The conference will discuss general concepts and methodologies, recent developments in the field, and provide an opportunity to network with other social network researchers. Topics include new approaches in SNA, website-based event analysis, online questionnaires, software-supported hyperlink analysis, discourse network analysis (more information and program available
here.


For further information, please contact:

Sabrina Zajak
Publications:
Zajak, S., Gortanutti, G., Lauber, J., & Nikolas, A. M. (2019). Codebook for a Website-based Network Analysis of the Cooperation. between Trade Unions and Social Movement Organisations in Europe.
Zajak, S., Gortanutti, G., Lauber, J., & Nikolas, A. M. (2018). Talking about the same but different? Understanding social movement and trade union cooperation through social movement and industrial relations theories. Industrielle Beziehungen, 2.p.166-187
Downloads
Bericht Conference report (341.4 kB)